PRE-STRESSED CONCRETE MASTS
Pre-stressed spun concrete masts manufactured by Strunobet-Migacz Sp. z o.o. possess high technological parameters and visual aspects thanks to the use of the latest technologies for the production of the pre-stressed spun concrete. In contrast to other solutions, the mould with transverse modulation every 3 meters and an innovative insulation of the mould of the longitudinal joint minimize the number of visible joints. It results in an increased strengths and high resistance to weather conditions, including the aggressive environment.
High-voltage power line support structures, telecommunication and antenna masts, lighting masts, lightning protection ground masts, billboard support structures, observation towers, tower monitoring systems and other similar support structures.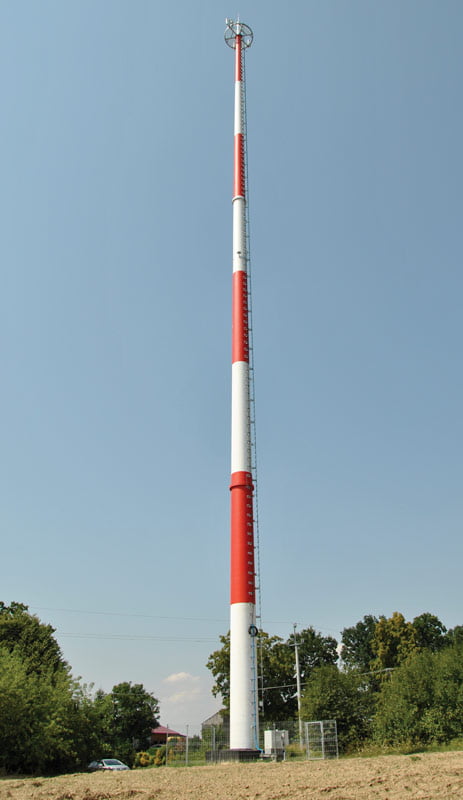 Pre-tensioned masts are manufactured on the basis of the harmonized standard EN-12843:2008 concerning precast concrete products.
Masts and poles.

They have the 2311-CPR-055 Manufacturing Quality Control Certifcate issued by the notied body Institute of Building Materials and Concrete Technologies in Warsaw.
Pre-tensioned masts are manufactured using the technology of compacted concrete by setting the conical moulds into cirular motion. As a result of the centrifugal force, concrete is uniformly spread over the brim of the mould and is favourably compacted, which allows higher technical parameters and smooth surface.
Thanks to the use of reliable materials in terms of their quality and obeying the technological regime, the masts which we produce, as well as the pre-tensioned concrete poles, are characterized by long-term operation without
routine maintenance and the lifetime of at least 50 years.
In contrast to other solutions, the mould with transverse modulation every 3 meters and an innovative insulation of the mould longitudinal joint minimize the number of visible joints.
To guarantee proper quality of our products, we have introduced procedures of continuous inspection and surveillance of the products. It has been confrmed by the manufacturing quality control certifcate issued by a notifed body.
Basic technical specifcations:
Length range: from 18m to 57m
Convergence 15mm/1m of length
Max. diameter; 1343mm (without the head).
Concrete class: minimum C 50/60.
Exposure class – XC 4, XF 1, XD 1; XS 1 according to PN-EN 206-1:2003 standard, (customers need to ask about other classes).
Steel for concrete reinforcement (Y1860, BST500S).
Inlaid screwed sleeves made of stainless steel.
Steel heads of the masts, hot-dip galvanized with the ≥ 150μm coating and fnished with a suitable anti-corrosive varnish.
Normally, a pre-tensioned mast has the following components:
M16 mounting sleeves for an access ladder every 1400mm or 700mm.
M12 mounting sleeves for cable ducts every 500mm.
M16 or M20 mounting sleeves to install the lightning rod (at the top of the mast).
M12 sleeves to install protective earthing in the bottom part, 2 pieces.
Internal earthing providing connection of each steel element mounted on the mast and permanent connection to earth terminals at the foundation.
Air escape openings protected with air gratings.
ADDITIONALLY, EACH MAST CAN HAVE THE FOLLOWING ELEMENTS:
1. Obstacle markings: 
Daily obstacle markings are red and white stripes of the same width.
Night obstruction markings are in accordance with the Regulation of the Minister of Infrastructure of 25 June 2003 on Registration and Marking of Aviation Obstacles (Journal of Laws – Dziennik Ustaw – No. 130, Item 1193).
2. Access ladder:
The proposed solution of the entrance leading to the antenna mast consists of a rail ladder with fall protection (Soll, Faba).
On the request of the customer, we deal with customized solutions, such as cage ladders with fall protection provided. The access ladder is mounted onto M16 mounting sleeves permanently cast into concrete.
3. Cable duct:
It is possible to mount hot-dip galvanized brackets on both sides of the access ladder. These brackets can be spaced every 500mm and are used to install the cable duct.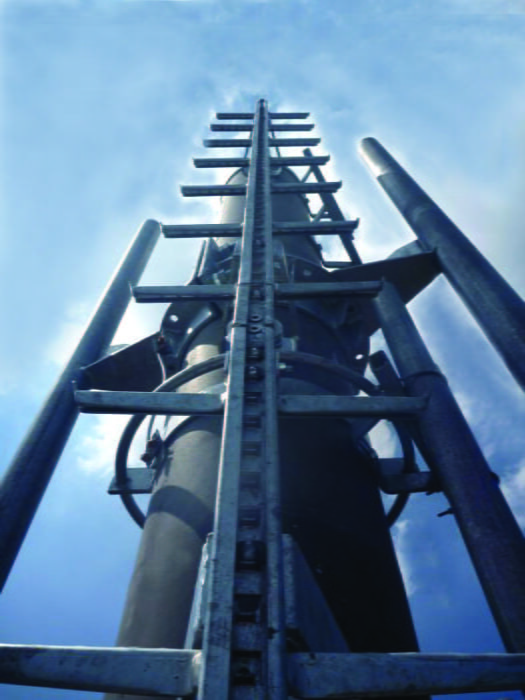 4. Access walkways
Support structures for antennas, lightning arresters, and platforms for safe operation of antennas mounted on masts are made from hot-dip galvanized steel. Additionally, we can also paint the structure. Bridges and supporting structures for antennas can be on one level or more. Construction and mounting details are set up in the final design of the pretensioned concrete mast.
5. Antenna mounting brackets and billboar support structures.
Support structures for antennas and billboards are manufactured and installed at the customer's request according to their individual projects, with protection by galvanizing and/or painting.
6. High voltage line structures
Crossarms and suspension components of electricity lines are manufactured and mounted in accordance with the project.
We manufacture a wide selection of pre-tensioned concrete masts, depending on their loads and wind zones in which they are installed.
Detailed selection of products manufactured by STRUNOBET-MIGACZ is presented on specification sheets of two- and three-part pre-tensioned concrete masts for wind zones I and II.
Due to a large variety of wind loads and altitudes above the sea level, masts for wind zone III are manufactured on request.
Other elements of our offer include:

transport by specialist over dimensional vehicles,
planning permission plans and a plot development plan needed a to obtain a building licence as well as working plans and specifications,
we furnish our customers with all necessary components, such as access ladders with fall protection, cable ladders, working platforms and brackets for mounting antennas, electricity lines support structures, lightning rods, etc.
construction works connected with foundation and installation,
technological reinforced concrete container equipped with all installations necessary to supply power and maintain the facilities, which is a separate design.